Rice Baseball has five active players in the major leagues. Here's how the current MLB Owls are doing at the 2019 All-Star break.
Chargois made eight appearances before the All-Star break. He owns a 1-0 record through 8.2 innings pitched with 16 strikeouts and three walks. He struck out seven of the last batters he's faced across two appearances in the month of July. Those terrific outings lowered his WHIP to a career-best 0.923.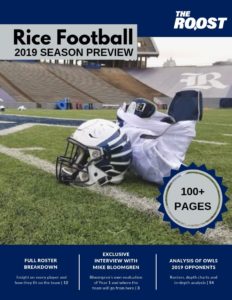 Duffey was used sparingly through the first several weeks of the 2019 season before a May 11 doubleheader thrust him back amongst the bullpen regulars for the Minnesota Twins. Over the course of 25 games, Duffey sports a 3.49 ERA with 35 strikeouts over 28.1 innings. He's walked only six batters. His 11.1 strikeouts per nine innings is a career best.
Available Now: 2019 Rice Football Season Preview 

Duplantier made his MLB debut on April 1, earning the save in the Arizona Diamondbacks' win over the San Diego Padres. His first career start came almost two months later on May 31 against the New York Mets. He went five innings, striking out four with two walks and three runs allowed, earning a no-decision. Following two more appearances, he was placed on the injured list with right shoulder inflammation. His line at the end of the first half of the season is a respectable 4.32 ERA in 25 innings with 24 strikeouts and nine walks.
A hamstring injury slowed Holt in the latter portion of June, but it couldn't cool his red-hot start to the summer. Holt is hitting .317 entering the All-Star break, but a blazing .384 since June 1. He's racked up 28 hits and just 15 strikeouts over that period, collecting 14 RBI in the process. He's never hit better than .281 over the course of a season, the mark he reached in his first full year in Boston in 2014.
Name an All-Star for the first time in his career, Rendon will not play in the Midsummer Classic, opting instead to rest up and nurse some minor injuries before the second half of the season begins. Even though he won't get the chance to show off his skills in Cleveland, he's more than proven himself worthy of the recognition.
Rendon is in his third consecutive season as a .300 hitter and is on pace for 160+ hits, 40+ doubles and 80+ RBI. Achieving those milestones would mark the fourth consecutive year he'd done so. This is a contract year for Rendon, making the timing of his steadfast productive all the more impactful.

Subscribe on Patreon for exclusive Rice football recruiting updates, practice notes and more.
Recent Posts