National Signing Day is in the books and another highly-rated Rice football recruiting class is on its way to South Main.
Rice Football announced the hiring of Mike Bloomgren on December 6, 2017. He assembled his first official Rice Football recruiting class in the immediate weeks that followed. That first group, pulled together almost on the fly, ranked No. 12 in Conference USA and No. 117 in the nation. That set the floor.
It's not uncommon for recruiting classes to wane in transition years, but that class actually was five spots better in the national ranks than the year prior (No. 122) and marginally better ranked. Things ticked upward in the following cycle for 2019 when Rice signed the No. 111 class in the nation and the No. 11 class in C-USA. The seemingly modest improvement proved to be the fifth most talented class in program history.
That 2019 group contained impact players like Bradley Rozner, Naeem Smith, De'Braylon Carroll, Jake Bailey and Tre'shon Devones, among others. Then Bloomgren and Co. signed the 2020 Rice Football recruiting class which earned the distinction of being the highest-rated class in school history. And now comes 2021.
With National Signing Day in the books, Rice holds the No. 93 class in the nation and the No. 5 class in Conference USA. It's the first time Rice has finished in the top five in its conference in recruiting since 2013. From a rankings perspective, it's the third-most talented class Rice has ever signed.
In short, Rice has signed three of their five most talented classes in program history in the past three seasons. Take a look: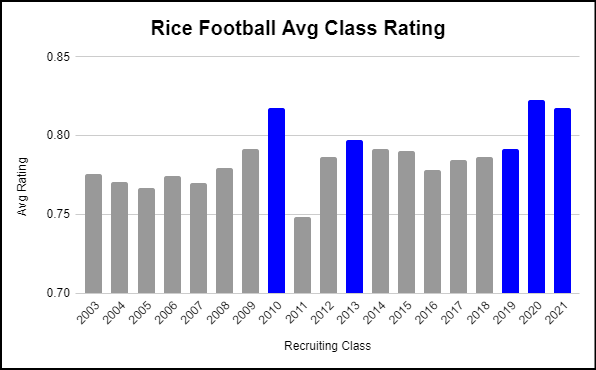 Bloomgren signees account for three of the top 10 highest-rated recruits the Owls have ever signed. That list includes safety Gabe Taylor (No. 1),  linebacker DJ Arkansas (No. 7) and wide receiver Jake Bailey (No. 8), one from each of the last three classes.
All this comes with the understood caveat that rankings systems aren't perfect. But the current staff can't fix inherent flaws in that system. All they can do is ensure they bring the best talent they can to South Main. Through four cycles, they've fulfilled that objective emphatically.
Follow all Rice Football recruiting updates and analysis by subscribing on Patreon.

Subscribe on Patreon for exclusive Rice football recruiting updates, practice notes and more.
Recent Posts