The offensive line contingent of the 2020 Rice Football Recruiting class is getting bigger and better. JUCO tackle Adam Sheriff has committed to the Owls.
You can never have too many offensive linemen. That creed is truer few places than South Main. After watching true freshman walk on center Isaac Klarkowski finish out last season, the 2020 Rice Football recruiting class will not lack a sizable collection of trench-defending athletes. Even though they already have some talented prospects in the fold, the Owls continue to prioritize the position.
Rice nabbed grad transfer Jovaun Woolford from Colgate last week but didn't ease up. 6-foot-4, 280-pound offensive tackle Adam Sheriff, a transfer from Butler Community College, was among their top targets at the position. Sheriff was on campus the final weekend before the Early Signing Period and saw all he needed to make his decision. Now he's the latest member of an impressive haul in the trenches.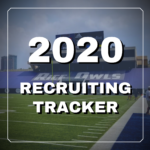 Sheriff had drawn interest from North Texas and Arkansas State, ultimately opting for the Owls. The addition is a nice head-to-head victory over a C-USA peer and a talented Arkansas State team that had posted a winning record in sixth consecutive seasons under head coach Blake Anderson.
Quarterback and offensive line were the biggest gaps the 2020 Rice Football Recruiting class needed to address. With Sheriff on board, the Owls have gone a long way to filling those holes. Rice could still opt to bring in another piece to man the front lines, especially with the potential loss of Uzoma Osuji to the transfer portal.
No matter how the rest of the pieces come together, Sheriff has the potential to be a mainstay on the Rice offensive line for several years. Rice has done well with their offensive line recruits. Sheriff looks to be the next in a great line of enforcers up front.

Subscribe on Patreon for exclusive Rice football recruiting updates, practice notes and more. React to this story on our forum.
Recent Posts