Rice football hosts UTEP this week. Here's what Mike Bloomgren had to say about the matchup at hand and a few depth chart notes.
Head coach Mike Bloomgren and a pair of players met with the media for their customary weekly availability. They recapped the Charlotte loss and looked at the week ahead, detailing what they're expecting to see when UTEP takes the field.
We touch on those items, then dig into the Rice football depth chart and what the team looks like heading into the weekend. First, the quotes:
Press Conference Quotes
"Obviously, we're coming off a disappointing loss on Saturday versus Charlotte. My hat's off to their staff and players for coming together and playing the way they did. They played their butts off. Unfortunately, the game didn't go the way we planned. I thought we got outcoached. I thought we got outplayed and out-physicalled, which are things that we never want to be a part of. I told our team that we've got to stay together and we've got to move forward. One of the bonuses of a Thursday night game is that you don't have time to sulk. We were back to meetings and practice last night. The time for licking your wounds is behind us. It's in the rearview mirror as we move forward." – Mike Bloomgren on the Charlotte loss

"This game will be a battle. I don't have any doubt about that. I know how Dana (Dimel) coaches. I know the toughness that he instills in his team and I expect it to be a very, very physical game like it always is between these two teams. You look at them on offense, they are going to run the ball. They are going to run the ball. They are going to run the ball, and then they are going to play-action pass. On defense, I think their defensive coordinator, Bradley Dale Peveto, does a great job." – Mike Bloomgren on UTEP  
"Kids are so resilient. It's not that they're not hurting, it's just that, when you've got to do a med check at 10 a.m., yesterday, and then you've got to do a lift at 3:30, then you've got dinner at 5:15 and then you have meetings, nobody had time. As coaches we started watching film at 6 p.m. We put the Charlotte game largely to bed. Then we came in at 8 a.m. and we put the plan together all day yesterday. So coaches really didn't have time to breathe, sleep or pout. That's probably a good thing because that was not our best performance."" – Mike Bloomgren on the short week
"Its been like two and a half, three months since I've been able to be on the football field so just having the opportunity to practice today is huge for me, huge to be with the guys again, because it's different when you're in lockdown compared to when you're on the field practicing, being in that environment. So I'm really excited to be back and being able to catch footballs. " – Wide receiver Cedric Patterson on returning to practice 
"It's definitely not our brand of football and we were even saying during the game that we need to fix this. I feel like everyhting that was on thing is fixable, and that's the good thing behind it, it's nothing that we can't do or nothing that is beyond what we're capabable of. We just gotta make that necessary change. We've got to understand that last week probably wasnt our best perfomrance, but it's not our last performance. We know that we've done better and we can do better." – Rush end Joshua Pearcy on the defensive effort against Charlotte
Depth Chart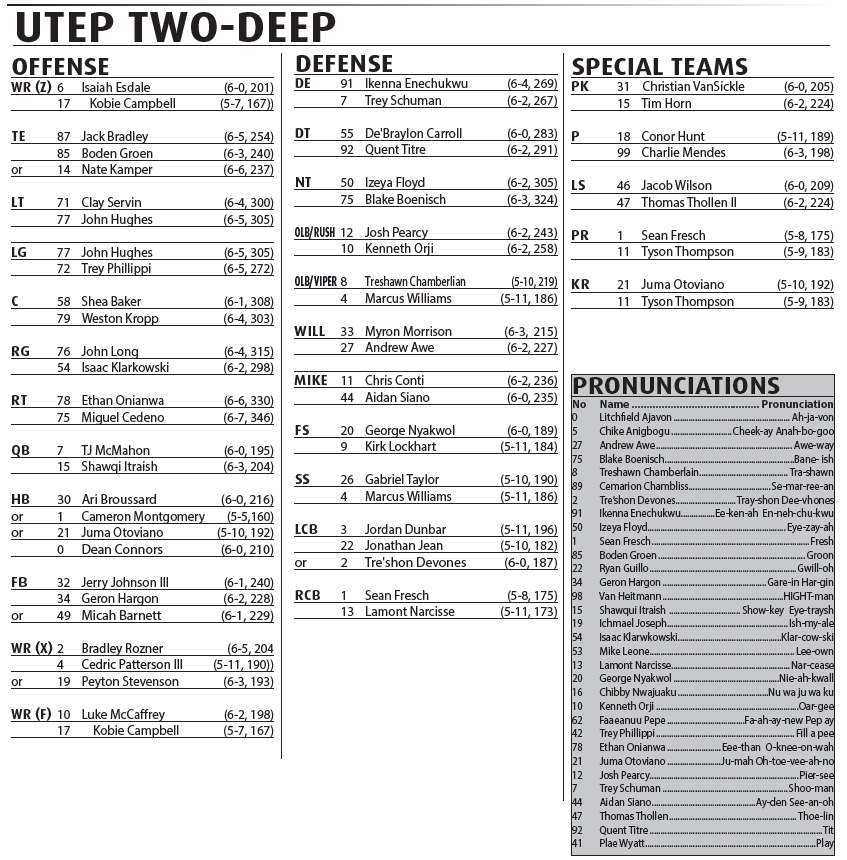 Depth Chart Notes
There is only one singular change on the depth chart this week, but it's a significant one. Wide receiver Cedric Patterson, who has been out with an injury suffered early in fall camp, is back on the two-deep.
Patterson was available to take questions from the media on Monday and is expected to be back on the practice field this week, trending towards playing on Saturday. Technically listed as the No. 2 X receiver behind Bradley Rozner, we'll have more on where Patterson lines up and how he might be used in our practice notes later in the week (available to our subscribers).

Subscribe on Patreon for exclusive Rice football recruiting updates, practice notes and more.
Recent Posts