You need to log in to create posts and topics.
Rice Football Recruiting: Owls ramping up as Early Signing Period nears
Matthew Bartlett
@matthew_bartlett
December 11, 2019, 7:00 AM
The 2020 Rice Football recruiting class is coming together. The Owls added two commitments this week and are in pursuit of several additional targets.
December marks the busiest weeks of the recruiting calendar. The Owls paid visits to nearly every member of the 2020 Rice Football recruiting class over the past week while simultaneously preparing to host additional waves of new recruits.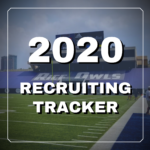 Entering the weekend, every member of the 2020 class was a high school senior. With football seasons done and school year's wrapping up, several potential transfer targets made their way to Houston. Rice walked away with two commitments from transfers -- JUCO quarterback TJ McMahon and former Colgate offensive tackle Jovaun Woolford. Several other players were impressed by what they saw from the Owls.
Names to Know
LB - Witt Mitchum
Near the top of the list of outstanding targets is Tennessee defensive end/offensive tackle Witt Mitchum. Rice offered Mitchum in November. Since then he's picked up offers from Georgia Southern, UConn, Kansas State and Kansas. His recruitment is blowing up, but Rice is hanging in with him for the long haul. Mitchum is originally from San Antonio and those Texas ties might help the Owls in this fight.
OT - Mike Leone
Leone has been a priority for a while now, staying in close communication with the staff despite being tucked away in New Jersey. He's coming down to Texas for a visit, skipping over opportunities much closer to home to come to South Main. Building the offensive line pipeline is crucial for this program, making the importance of Leone's visit tremendous.
OT - Adam Sheriff
If the addition of Woolford earlier this week didn't make it abundantly clear, Rice will always be on the market for experienced production on the offensive line. Sheriff spent last season at Butler Community College and has three years of remaining eligibility. He's being courted by a few other C-USA schools like North Texas and Western Kentucky.
What's Next?
In addition to some new targets, Rice will have the majority of their non-transfer commits on campus this coming weekend. Most of the local commits have been back for a few games during the year, but the out-of-state additions have had fewer chances to get back to campus. Despite the distance, the class has remained close. They're looking forward to all getting back together.
As of right now, I expect Rice to sign at least a dozen, if not more, of their current commits during the Early Signing Period, which starts on Wednesday, November 18. That will leave a handful of additional spots to lock down prior to National Signing Day in February, similar to how the team filled out their 2019 class a year ago.
Click for thumbs down.
0
Click for thumbs up.
0